This article of Social Media To examine proposes 6 ways to you of boosting this commitment.
1. 1- Encourage your followers
Your customers will be charmed if you devote a little time to them, in a personalized way. In this example, Nike put on tweets of encouragement for its followers.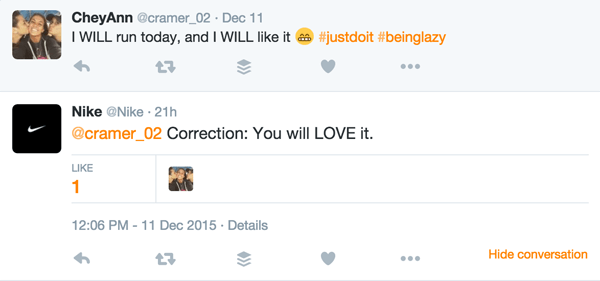 You can easily interact with your followers in this way. Fly over their tweets, detect those which seem to announce a significant event, and leave them a small message of personalized encouragement.
1. 2- Share their tweets
In "retweetant" your followers, you recognize the value of their contents. They will be flattered!
Make in kind share tweets which correspond to the values of your brand. Also think of adding a comment to your retweet, to be engaged in conversation.
2. 3- Integrate a relevant hashtag
Create a campaign via a hashtag chosen well, to reinvigorate your community and thus to start again the conversation around your brand. It is important to determine the objectives of this countryside, and to choose a relevant subject compared to the centers of interest of your followers.
3. 4- Bring to them a solution
To collect the attention of your followers, propose to them contents which will really interest them, which will bring to them small more in their daily life. It is important to identify what interests your followers, by analyzing their tweets and profile. You will then discover what they like, which disturb them and their influences. Try to detect a question or a recurring problem with the members of your community, and offer to them a solution. Avoid the paying solutions, choose rather advices or tips.
4. 5- Create a competition
To create a competition which makes it possible to gain gifts free and easily is an excellent way increase the commitment of your followers. To determine the topic of your competition, you also trust the profile and tweets of your community to determine their centers of interest. Also reflect in the manner of taking part in this competition, which must be simplest possible. Finally, do not forget to promote this competition via the other social networks.
5. 6- Answer the calls of your customers
It can happen that your customers do not find satisfaction with your products, or that they need your assistance. These moments are very important because the way in which you react will strongly influence the relation which you have with your customers. Bring to them a help effective and personalized and the satisfaction of your customer will be favorable for you.
By applying these various practices, you increase considerably your chances to build a faithful and committed community.